Bachelor of Dental Surgery(BDS) is one of the most popular designated degrees for dentists (doctors). This degree is the bachelor professional program of dental surgery in India. It is equivalent to the MBBS and owes the "Doctor" domain. In the medical educational career, it is the second choice of the candidates after the MBBS course.
In this BDS degree program, the students learn about dentures, dental problems, and surgery. It is also a good job-oriented course and there are various opportunities available in the hospital, pharmaceutical, and medical device manufacturing industries.
A Bachelor of Dental Surgery is awarded on the completion of the four-year academic program and the one-year mandatory internship program in dentistry education leading to the Bachelor of Dental Surgery degree program. After successfully completing your degree program, you are qualified to practice as a dentist.
The Dental Council of India is the only accredited body for BDS dental programs. This course is now in trending demand by 12th-passed students in the medical field. It is very challenging to pursue and you should have a hard-working and passionate attitude in the study and have a focused mind for doing this dental course.
Eligibility:
Candidates should have passed 10+2 with subjects such as Chemistry, Physics, and Biology
They must have scored at least 50 percent marks in the 12th standard
Must not be less than 17 years old
Qualifying for NEET is compulsory
BDS Admission Process:
Students who want to get admission to the BDS Degree course have to qualify for the entrance test. National Testing Agency organizes online application forms.
Candidates have to fill out the form by the given deadline date and appear for the NEET exam for admission to the undergraduate dental program. The exam is held once a year in computer-based mode.
Candidates have to score a minimum cut-off as one of the criteria to participate in NEET counseling. Seats are allocated on the merit of rank, choice filled by the candidate, availability of seats, and reservation criteria.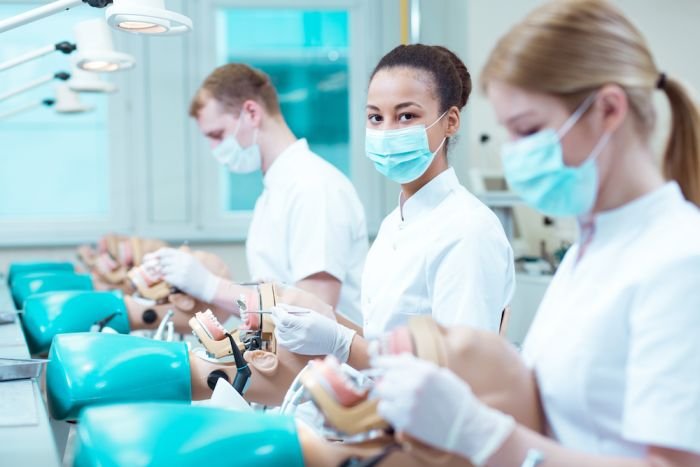 Top Dental Colleges are listed below:
Dental College & Hospital, Aurangabad
Dental College & Hospital, Mumbai
Dental College, Gujarat
Government Dental College & Research Institute, Bengaluru
Amrita College of Dentistry, Kerala
Maulana Azad Medical College, New Delhi
Faculty of Dental Science, King George's Medical University, Lucknow
Dental College, Thiruvananthapuram
Govt. Dental College & Hospital, Andhra Pradesh
Career Scope in BDS:
Dentist
Dental Surgeon
Endodontic
Oral and Maxillofacial Pathologists
Oral Surgery
Orthodontics
Pedodontics
Periodontics
Prosthodontics
Some employment areas for BDS aspirants are:
Dental Clinics
Hospitals
Educational Institutions
Pharmaceutical Companies
Dental Products Manufactures
Private Practice
| Job profiles | Average Salary (In INR) |
| --- | --- |
| Dentist | 4 to 5 lakh |
| Researcher | 3 lakh |
| Lecturer | 5 lakh |
| Dental officer in Defense Services | 10 lakh |
| Dentist in Indian Railways | 7 lakh |