What are a Doctor and his/her work:
What is a Doctor: A doctor is a human being who maintains his role as "God" and he/she maintains or restores human health with the practice of medicine and medical treatments. He or she will diagnose and treat human diseases, ailments, injuries, pain, or other conditions. A doctor can be found in several settings, including public health organizations, Hospitals, teaching facilities, private practices, and group practices.
What does a Doctor do?: A doctor typically works 24 Hours and has long duties at any time and has to be available for emergencies. These hours are spent seeing patients in an office-based setting, running tests as well as interpreting them, prescribing medicine or treatments, doing rounds in the hospital, making notes on patients' physical conditions, advising patients on how to stay healthy, and talking to them about further treatment. They keep up to date by taking classes and regularly reading books and medical journals.
A doctor that also performs surgeries will usually work two or three full days in the office and then two or three days in the hospital operating room performing surgeries. Doctors will also invest time completing administrative duties such as updating patient records, returning phone calls, or dealing with various office issues.




How to become a doctor after 12th:
The eligibility requirement to become a Doctor:

1. Get Good Marks and Grades: You have to pass the Final 12th class with Physics, Chemistry, and Biology with at least 60% marks from a recognized Board of education like CBSE. In order to get admission to the best colleges and the best medical schools, you need excellent grades and first class. The better your Marks and Grades, the more seriously you'll be taken as a candidate for the programs you wish to get into and the more opportunities you'll have along the way to make connections and network.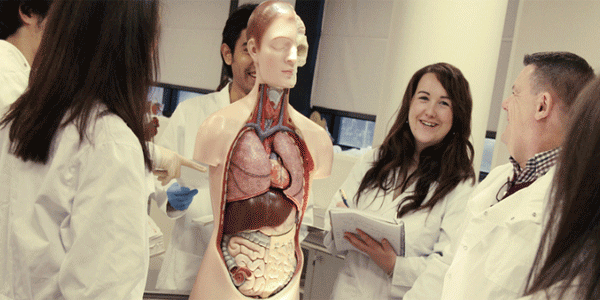 2. Science Stream: Choose the complete science Stream (with math) at your school. Those who do best in pre-med programs and in medical school have been dealing with math and science from an early age. Take all the courses your high school offers in math and science so that when serious classes roll around in college, you're prepared.

Procedure to become a Doctor after 12th
Step1: EARN A BACHELOR'S DEGREE (4 YEARS)
The first step to becoming a doctor you have to done completing a four-year pre-medical undergraduate program. Every medical school and college has its own set of requirements and eligibilities, but you will have to give a strong focus on the following areas:
Chemistry
Organic Chemistry
Anatomy
Biology
Physics
Calculus
Step 2: Pass the Medical College Admission Test
You have to take the Medical College Admission Test (MCAT) according to individuals interested in applying. In this exam, there are multiple-choice options about problem-solving, critical thinking, scientific principles, and writing. It is important to perform well on this exam in order to get enter medical school.
Medical entrance exams for MBBS are :
MCAT – Medical College Admission Test
AIIMS Entrance Exams – All India Institute of Medical Science Entrance Exam
AIPMT- All India –Pre-Medical/Pre-Dental Entrance Exam
AIMS- Amrita Institute of Medical Sciences
AFMC- Armed Forces Medical College exam
BLDE University Undergraduate Entrance Test
Medical Entrance Exams in Delhi
Medical entrance examinations in Andhra Pradesh
MP DMAT – All India Dental & Medical Admission Test – Madhya Pradesh
UPCAT/ UPCMET/UPCPMT – Uttar Pradesh Medical Entrance Exams
All India common Entrance test, Dr. DY Patil Medical College.
DUMET – Delhi University Medical/ Dental Entrance test
DUSET- Delhi University Super-specialty Entrance Test
Haryana PMT -Haryana Pre-Medical Test
HP CPMT – Himachal Pradesh Combined Pre-Medical Entrance Test HP CPMT Medical Entrance Exam
KLE UGAIET / PGAIET – KLE University Under Graduate / Post Graduate All India Entrance Test
KEAM- Kerala Entrance Exam (MBBS, BDS, BV.Sc, AND AH)

!! Medical entrance exam coaching centers in India !!

Aakash Institute
Allen Career Institute
The Narayana Group
Brilliant Tutorials
Bansal Classes
Delhi Academy of Medical Sciences (DAMS)
Oasis Educational Services
Sahil Study Circle Private Ltd
Elite Academy
Naik Academy
Narayana

Step 3: Enroll in Medical School (4 YEARS)

A Doctor of Medicine (MD) program is four years long and combines academic coursework with clinical training. The first two years of the program will teach medical students about several topics, including medical laws and ethics, microbiology, anatomy, and physiology. The final two years require students to participate in clinical rotations. These rotations, completed under the supervision of doctors, will expose students to areas involving surgery, pediatrics, internal medicine, psychiatry, gynecology, and obstetrics.

Medical students can choose to pursue either a Doctor of Medicine (M.D.) or a Doctor of Osteopathic Medicine (D.O.) degree. The programs are nearly the same, except the D.O. degree program involves training in osteopathic manipulative medicine. During the last two years of medical school, students are required to gain real-world experience at hospitals and clinics. They learn how to diagnose and treat patients while working under the supervision of licensed physicians.

Step 4: Getting a License






Doctors must obtain medical licensure to practice in hospitals and other types of medical facilities. In order to earn licensure, doctors must pass the United States Medical Licensing Exam (USMLE). This three-part exam covers topics involving scientific and medical concepts, patient care, and management in ambulatory settings.

Step 5: Complete a Medical Residency

After graduating from medical school, aspiring doctors must enter residency programs. In a residency, doctors will receive paid, on-the-job training. These can last anywhere from 3-7 years, depending on the specialty. Residencies take place in a hospital and offer an opportunity for medical school graduates to begin treating patients under the supervision of an experienced doctor.

List of Medical Colleges and Details:

S.No.
Course Name
State
Name-Address of
Medical College
University Name
Management
Seats
1
M.B.B.S.
Andaman & Nicobar Islands
Andaman & Nicobar Islands Institute of Medical Sciences, Port Blair
Pondicherry University
Govt.
100
2
M.B.B.S.
Andhra Pradesh
ACSR Government Medical College Nellore
NTR University of Health Sciences, Vijayawada
Govt.
150
3
M.B.B.S.
Andhra Pradesh
Alluri Sitaram Raju Academy of Medical Sciences, Eluru
NTR University of Health Sciences, Vijayawada
Trust
150
4
M.B.B.S.
Andhra Pradesh
Andhra Medical College, Visakhapatnam
NTR University of Health Sciences, VijayaWada
Govt.
200
5
M.B.B.S.
Andhra Pradesh
Dr. P.S.I. Medical College, Chinoutpalli
NTR University of Health Sciences, VijayaWada
Trust
150
6
M.B.B.S.
Andhra Pradesh
Fathima Instt. of Medical Sciences, Kadapa
NTR University of Health Sciences, VijayaWada
Trust
100
7
M.B.B.S.
Andhra Pradesh
GITAM Institute of Medical Sciences and Research, Visakhapatnam
Gandhi Institute of Technology and Management (GITAM University) Deemed, Visakhapatnam
University
150
8
M.B.B.S.
Andhra Pradesh
Government Medical College, Anantapur
NTR University of Health Sciences, Vijayawada
Govt.
100
9
M.B.B.S.
Andhra Pradesh
Government Siddhartha Medical College, Vijaywada
NTR University of Health Sciences, VijayaWada
Govt.
150
10
M.B.B.S.
Andhra Pradesh
Great Eastern Medical School and Hospital, Srikakulam
NTR University of Health Sciences, VijayaWada
Trust
100
11
M.B.B.S.
Andhra Pradesh
GSL Medical College, Rajahmundry
NTR University of Health Sciences, VijayaWada
Trust
200
12
M.B.B.S.
Andhra Pradesh
Guntur Medical College, Guntur
NTR University of Health Sciences, VijayaWada
Govt.
200
13
M.B.B.S.
Andhra Pradesh
Katuri Medical College, Guntur
NTR University of Health Sciences, VijayaWada
Trust
150
14
M.B.B.S.
Andhra Pradesh
Konaseema Institute of Medical Sciences & Research Foundation, Amalapuram
NTR University of Health Sciences, VijayaWada
Trust
150
15
M.B.B.S.
Andhra Pradesh
Kurnool Medical College, Kurnool
NTR University of Health Sciences, VijayaWada
Govt.
200
16
M.B.B.S.
Andhra Pradesh
Maharajah Institute of Medical Sciences, Vizianagaram
NTR University of Health Sciences, VijayaWada
Trust
100
17
M.B.B.S.
Andhra Pradesh
Narayana Medical College, Nellore
NTR University of Health Sciences, VijayaWada
Trust
250
18
M.B.B.S.
Andhra Pradesh
NRI Institute of Medical Sciences, Visakhapatnam
NTR University of Health Sciences, VijayaWada
Trust
0
19
M.B.B.S.
Andhra Pradesh
NRI Medical College, Guntur
NTR University of Health Sciences, VijayaWada
Trust
150
20
M.B.B.S.
Andhra Pradesh
P E S Institute Of Medical Sciences and Research, Kuppam
NTR University of Health Sciences, VijayaWada
Trust
150
21
M.B.B.S.
Andhra Pradesh
Rajiv Gandhi Institute of Medical Sciences, Kadapa
NTR University of Health Sciences, VijayaWada
Govt.
150
22
M.B.B.S.
Andhra Pradesh
Rajiv Gandhi Institute of Medical Sciences, Srikakulam
NTR University of Health Sciences, VijayaWada
Govt.
100
23
M.B.B.S.
Andhra Pradesh
Rajiv Gandhi Institute of Medical Sciences, Ongole, AP
NTR University of Health Sciences, VijayaWada
Govt.
100
24
M.B.B.S.
Andhra Pradesh
Rangaraya Medical College, Kakinada
NTR University of Health Sciences, VijayaWada
Govt.
200
25
M.B.B.S.
Andhra Pradesh
S V Medical College, Tirupati
NTR University of Health Sciences, VijayaWada
Govt.
200
26
M.B.B.S.
Andhra Pradesh
Santhiram Medical College, Nandyal
NTR University of Health Sciences, VijayaWada
Trust
100
27
M.B.B.S.
Andhra Pradesh
Sri Padmavathi Medical College for Women, Alipiri Road, Tirupati
Sri Venkateswara Institute of Medical Sciences, Tirupati
Govt.
150
28
M.B.B.S.
Andhra Pradesh
Viswabharathi Medical College, Kurnool
NTR University of Health Sciences, VijayaWada
Society
0
29
M.B.B.S.
Assam
Assam Medial College, Dibrugarh
Srimanta Shankardeva University of Health Sciences
Govt.
170
30
M.B.B.S.
Assam
Fakhruddin Ali Ahmed Medical College, Barpeta, Assam
Srimanta Shankardeva University of Health Sciences
Govt-Society
100
31
M.B.B.S.
Assam
Gauhati Medical College, Guwahati
Srimanta Shankardeva University of Health Sciences
Govt.
156
32
M.B.B.S.
Assam
orhat Medical College & Hospital, Jorhat
Srimanta Shankardeva University of Health Sciences
Govt.
100
33
M.B.B.S.
Assam
Silchar Medical College, Silchar
Srimanta Shankardeva University of Health Sciences
Govt.
100
34
M.B.B.S.
Assam
Tezpur Medical College & Hospital, Tezpur
Srimanta Shankardeva University of Health Sciences
Govt.
100
35
M.B.B.S.
Bihar
Anugrah Narayan Magadh Medical College, Gaya
Magadh University
Govt.
100
36
M.B.B.S.
Bihar
Darbhanga Medical College, Lehriasarai
LN Mithila University
Govt.
100
37
M.B.B.S.
Bihar
Government Medical College, Bettiah
Aryabhatta Knowledge University, Patna
Govt.
100
38
M.B.B.S.
Bihar
Indira Gandhi Institute of Medical Sciences, Sheikhpura, Patna>
Indira Gandhi Instt of Medical Sciences (Deemed University), Patna
Govt.
100
39
M.B.B.S.
Bihar
Jawaharlal Nehru Medical College, Bhagalpur
Tilkamanshi Bhagalpur University
Govt.
100
40
M.B.B.S.
Bihar
Katihar Medical College, Katihar
B.N. Mandal University
Trust
100
41
M.B.B.S.
Bihar
Lord Buddha Koshi Medical College and Hospital, Saharsa
B.N. Mandal University
Trust
0
42
M.B.B.S.
Bihar
Mata Gujri Memorial Medical College, Kishanganj
B.N. Mandal University
Trust
100
43
M.B.B.S.
Bihar
Nalanda Medical College, Patna
Magadh University
Govt.
100
44
M.B.B.S.
Bihar
Narayan Medical College & Hospital, Sasaram
Veer Kunwar Singh University, Bihar
Trust
100
45
M.B.B.S.
Bihar
Patna Medical College, Patna
Patna University
Govt.
150
46
M.B.B.S.
Bihar
Shri Krishna Medical College, Muzzafarpur
Babasaheb Bhimrao Ambedkar Bihar University, Mazaffarpur
Govt.
100
47
M.B.B.S.
Bihar
Vardhman Institute of Medical Sciences, Pawapuri, Nalanda
Ayush and Health University, Raipur
Govt.
100
48
M.B.B.S.
Chandigarh
Government Medical College, Chandigarh
Punjab University
Govt.
100
49
M.B.B.S.
Chattisgarh
Chandulal Chandrakar Memorial Medical College, Durg
Ayush and Health University, Raipur
Private
150
50
M.B.B.S.
Chattisgarh
Chhattisgarh Institute of Medical Sciences, Bilaspur
Guru Ghasidas University
Govt.
150
51
M.B.B.S.
Chattisgarh
Government Medical College, Rajnandgaon
Chhattisgarh Ayush and Health Sciences University, Raipur
Govt.
100
52
M.B.B.S.
Chattisgarh
Late Shri Baliram Kashyap Memorial NDMC Govt. Medical College, Jagdalpur
Ayush and Health University, Raipur
Govt.
100
53
M.B.B.S.
Chattisgarh
Late Shri Lakhi Ram Agrawal Memorial Govt. Medical College, Raigarh
Chhattisgarh Ayush and Health Sciences University, Raipur
Govt.
50
54
M.B.B.S.
Chattisgarh
Pt. J N M Medical College, Raipur
Ayush and Health University, Raipur
Govt.
150
55
M.B.B.S.
Delhi
All India Institute of Medical Sciences, New Delhi
Statutory Autonomous, Delhi
Govt.
50
56
M.B.B.S.
Delhi
Army College of Medical Sciences, New Delhi
Guru Gobind Singh Indraprastha University
Trust
100
57
M.B.B.S.
Delhi
Hamdard Institute of Medical Sciences & Research, New Delhi
University of Jamia Hamdard (Hamdard University)
Society
100
58
M.B.B.S.
Delhi
Lady Hardinge Medical College, New Delhi
Delhi University
Govt.
200
59
M.B.B.S.
Delhi
Maulana Azad Medical College, New Delhi
Delhi University
Govt.
250
60
M.B.B.S.
Delhi
North Delhi Municipal Corporation Medical College, Delhi
Guru Gobind Singh Indraprastha University
Govt.
50
61
M.B.B.S.
Delhi
University College of Medical Sciences & GTB Hospital, New Delhi
Delhi University
Govt.
150
62
M.B.B.S.
Delhi
Vardhman Mahavir Medical College & Safdarjung Hospital, Delhi
Guru Gobind Singh Indraprastha University
Govt.
150
63
M.B.B.S.
Goa
Goa Medical College, Panaji
Goa University
Govt.
150
64
M.B.B.S.
Gujarat
Ahmedabad Municipal Corporation Medical Education Trust Medical College, Ahmedabad
Gujarat University
Govt.
150
65
M.B.B.S.
Gujarat
B J Medical College, Ahmedabad
Gujarat University
Govt.
250
66
M.B.B.S.
Gujarat
CU Shah Medical College, Surendra Nagar
Saurashtra University
Trust
100
67
M.B.B.S.
Gujarat
GCS Medical College, Ahmedabad
Gujarat University
Trust
150
68
M.B.B.S.
Gujarat
GMERS Medical College, Dharpur Patan
Hemchandracharya North Gujarat University, Patan
Govt-Society
150
69
M.B.B.S.
Gujarat
GMERS Medical College, Gandhinagar
Gujarat University
Govt-Society
150
70
M.B.B.S.
Gujarat
GMERS Medical College, Gotri, Vadodara
MS University of Baroda
Govt-Society
150
71
M.B.B.S.
Gujarat
GMERS Medical College, Hadiyol, Himmatnagar
Hemchandracharya North Gujarat University, Patan
Govt-Society
150
72
M.B.B.S.
Gujarat
GMERS Medical College, Junagadh
Saurashtra University
Govt-Society
150
73
M.B.B.S.
Gujarat
GMERS Medical College, Sola, Ahmedabad
Gujarat University
Govt-Society
150
74
M.B.B.S.
Gujarat
GMERS Medical College, Valsad
Veer Narmad South Gujarat University
Govt-Society
150
75
M.B.B.S.
Gujarat
Government Medical College, Bhavnagar
Maharaja Krishnakumarsinghji Bhavnagar University
Govt.
150
76
M.B.B.S.
Gujarat
Government Medical College, Surat
Veer Narmad South Gujarat University
Govt.
150
77
M.B.B.S.
Gujarat
Gujarat Adani Institute of Medical Sciences, Bhuj
KSKV Kachchh University, Bhuj
Trust
150
78
M.B.B.S.
Gujarat
Medical College, Baroda
MS University of Baroda
Govt.
180
79
M.B.B.S.
Gujarat
MP Shah Medical College, Jamnagar
Saurashtra University
Govt.
200
80
M.B.B.S.
Gujarat
Pandit Deendayal Upadhyay Medical College, Rajkot
Saurashtra University
Govt.
150
81
M.B.B.S.
Gujarat
Pramukhswami Medical College, Karmsad
Sardar Patel University
Trust
100
82
M.B.B.S.
Gujarat
SBKS Medical Instt. & Research Centre, Vadodra
Sumandeep Vidyapeeth University (Deemed), Vadodra
Trust
150
83
M.B.B.S.
Gujarat
Smt. N.H.L.Municipal Medical College, Ahmedabad
Gujarat University
Govt.
150
84
M.B.B.S.
Gujarat
Surat Municipal Institute of Medical Education & Research, Surat
Veer Narmad South Gujarat University
Govt.
150
85
M.B.B.S.
Haryana
BPS Government Medical College for Women, Sonepat
PT. B.D. Sharma University of Health Sciences, Rohtak
Govt.
100
86
M.B.B.S.
Haryana
ESIC Medical College, Faridabad
PT. B.D. Sharma University of Health Sciences, Rohtak
Govt.
100
87
M.B.B.S.
Haryana
Gold Field Institute of Medical Sciences & Research, Ballabgarh, Faridabad
PT. B.D. Sharma University of Health Sciences, Rohtak
Trust
0
88
M.B.B.S.
Haryana
Maharaja Agrasen Medical College, Agroha
PT. B.D. Sharma University of Health Sciences, Rohtak
Trust
50
89
M.B.B.S.
Haryana
Maharishi Markandeshwar Institute Of Medical Sciences & Research, Mullana, Ambala
Maharishi Marakandeshwar University (Deemed), Ambala
Trust
150
90
M.B.B.S.
Haryana
Pt. B D Sharma Postgraduate Institute of Medical Sciences, Rohtak (Haryana)
PT. B.D. Sharma University of Health Sciences, Rohtak
Govt.
200
91
M.B.B.S.
Haryana
Shaheed Hasan Khan Mewati Government Medical College, Nahar
PT. B.D. Sharma University of Health Sciences, Rohtak
Govt.
100
92
M.B.B.S.
Haryana
Shree Guru Gobind Singh Tricentenary Medical College, Gurgaon
PT. B.D. Sharma University of Health Sciences, Rohtak
Trust
100
93
M.B.B.S.
Himachal Pradesh
Dr. Rajendra Prasad Government Medical College, Tanda, H.P
Himachal Pradesh University
Govt.
100
94
M.B.B.S.
Himachal Pradesh
Indira Gandhi Medical College, Shimla
Himachal Pradesh University
Govt.
100
95
M.B.B.S.
Himachal Pradesh
Maharishi Markandeshwar Medical College & Hospital, Solan
Maharishi Marakandeshwar University, Kumarhatti, Solan
Trust
150
96
M.B.B.S.
Jammu & Kashmir
Acharya Shri Chander College of Medical Sciences, Jammu
Jammu University
Trust
100
97
M.B.B.S.
Jammu & Kashmir
Government Medical College, Jammu
Jammu University
Govt.
150
98
M.B.B.S.
Jammu & Kashmir
Government Medical College, Srinagar
Kashmir University
Govt.
150
99
M.B.B.S.
Jammu & Kashmir
Sher-I-Kashmir Instt. Of Medical Sciences, Srinagar
Deemed University, Jammu & Kashmir
Govt.
100
100
M.B.B.S.
Jharkhand
M G M Medical College, Jamshedpur>
Kolhan University, Chaibasa
Govt.
100

Brief of Doctor Profession:

Required Education
Bachelor's degree (4 years)
Medical degree (4 years)
Family medicine internship & residency
Licensure and Certification
Board certification
State medical license
Professional Requirements
Continuing Medical Education (CME) credit to maintain license and board certification after residency
DEA registration to prescribe controlled substances
Projected Job Growth (2015-2019)
18% (higher than average for all occupations)*
Average Salary (2015)
$188,750 annually (for family and general practitioners)*

Best of Luck 12th Students and Go ahead with Big Dreams 🙂